Famous in Fifteen MinutesFormat:
Trade Paperback, 7.5" x 9.25" and Digital Download
Interior:
Full Color
Page Count:
102 pages
Date:
2014
Description:
Blake Taska is a young and cynical junior professor. She hates her job and is terrified of her students. Her reason? One of them shot and killed her. Now, trapped in the afterlife, she is forced to work in a hellish education factory where she explores her past relationships, emotional short-comings, and the cataclysmic effects of promising a nonexistent American dream.
$14.99 (Paperback)
$4.99 (Digital Download)
---
Femme Schism Volume 1
Format: Trade Paperback, 7.5" x 9.25"
Interior: Black & White
Page Count: 226 pages
Date: 2012
Description: Loto, the young and campy leader of an indigenous community is furious. First, a white Christian missionary shacks up with her in hopes of converting her tribe. Then an ambassador from a powerful territory called the Octagon Kingdom threatens to force her people to assimilate to the ways of "civilized" nations. This would include converting to an "approved" religion. But when Loto wins a bet against the Kingdom, she is granted one year to search the world for an approved religion best suited for her people. Is Loto interested in converting her tribe, or does she have other plans?

Price includes shipping.
Femme Schism Volume 2
Format: Trade Paperback, 7.5" x 9.25"
Interior: Black & White
Page Count: 212 pages
Date: 2012
Description: This journey across the world is making Loto's life more complicated than she had imagined. In one year, she has to choose a religion for her tribe, or else the Octagon Kingdom will take over her land and force her community to assimilate. And now she has fallen in love with Haydn Yorkshire, a white (and slightly racist) missionary from the Kingdom! Sadly, she is making no progress in winning his heart as Ursula, his new crush, is trying to kill her. To top it off, she, Haydn, and Barika have arrived to Takshak, a seedy town known for its brothels and underground human trafficking industry. Surely, Loto's true feelings won't get in the way while Ursula takes the missionary as her hostage. Right?

Price includes shipping.
Femme Schism Volume 3
Format: Trade Paperback, 7.5" x 9.25"
Interior: Black & White
Page Count: 240 pages
Date: 2012
Description: Haydn is tired of playing damsel in distress during a fight. Will Loto, however, teach him the combat techniques of the Veruki? The missionary believed so until he noticed that Loto has been acting strange...ever since she was taken down by a petite ninja. Haydn wonders how she'll react when the Kingdom discovers something very valuable residing in the Veruki Territory. Will Loto keep it together long enough to fight off, not only the Kingdom, but her past? Volume 3 is full of action, romance, and, of course, plenty of sex jokes.

Price includes shipping.
Femme Schism Volume 4
Format: Trade Paperback, 7.5"x 9.25"
Interior: Black & White
Page Count: 220 pages
Date: 2013
Description: Heartbroken, and homeless, Loto finds her way to the mythical, secret city of Shangri-La where she enrolls, alongside her arch rival, Oota Katsumi, in a rigorous and brutal martial arts program. Katsumi, nonetheless, isn't happy at all about Loto's rapid progress and will do anything to ensure that the Veruki warrior never surpasses her in skill. Meanwhile, Haydn roves the Kingdom in search of Loto. His quest to win back the Veruki's companionship is interrupted, however, by a sexy, nihilistic Amazon warrior who also happens to be seeking Loto's heart...literally. In Volume 4, Loto enters the land of Buddhism, while Haydn plunges into the subterranean world of hedonism--both trapped in a test of willpower, endurance, and ethics.

Price includes shipping.
The Art of Femme Schism
PRINT ON-DEMAND
Format: Paperback, 10" x 8"
Interior: Full Color
Page Count: 122 pages
Date: 2013
Description: Featuring original sketches, character model sheets, and stunning artworks related to the series, The Art of Femme Schism also includes an unpublished, never-before-seen pilot comic featuring Loto and Haydn in their earliest forms. Also included is an informal and personable commentary from the artist who discusses the development of her characters, their stories, and their world. Chapter 1, Early Development, focuses on the growth of the concept for the series, illustrated with dozens of sketches. Chapter 2, Characters, explores the main cast of Femme Schism. Chapter 3, Official Artwork, is packed with both color and black and white artwork used for posters, ads, or fine art. Chapter 4, Backgrounds, features concept sketches and digital renderings of the territories and cities through which your favorite characters traverse. In Chapter 5, Video Games, you'll have the opportunity to check out the artist's designs for the yet-to-be released Femme Schism video game. Finally, Chapter 6, Animations, discusses the artist's two-minute animated short that acts as a trailer for Volume 1. If you love the series, then this book is a must-have!

Due to the expense of printing this book, it is a "Print-on-Demand" order. Therefore, it may take a couple of weeks to receive your book after it's ordered. Price includes shipping and handling.
Powered by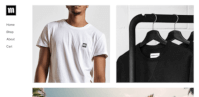 Create your own unique website with customizable templates.